OSI POLAND FOODWORKS is one of Polish representatives of an American corporation OSI GROUP, established in 1909 in the US.
OSI Group is a global producer and provider of both fresh and frozen beef, poultry and pork. The company is widely recognized for its great reputation on international markets of food of animal origin.
Considering the structure of OSI GROUP, the main responsibility of OSI POLAND FOODWORKS is beef production, with this product, being the globally offered, flag product of our group.
Polish slaughtering plant based in Chróścina is mostly a production facility for other, European companies of OSI GROUP, where high-quality beef-based products are produced. The plant has also been cooperating with international chains of stores as well as the Food Service sector (hotels, restaurants and catering services), providing them with beef steaks: roast beef, entrecote, fillet and other, including beef offal. To see our offer, click here. Cooperation with such a wide range of companies is possible due to our extensive list of export permissions to foreign markets, where beef consumption continues to trend upward. See our export permissions - click here.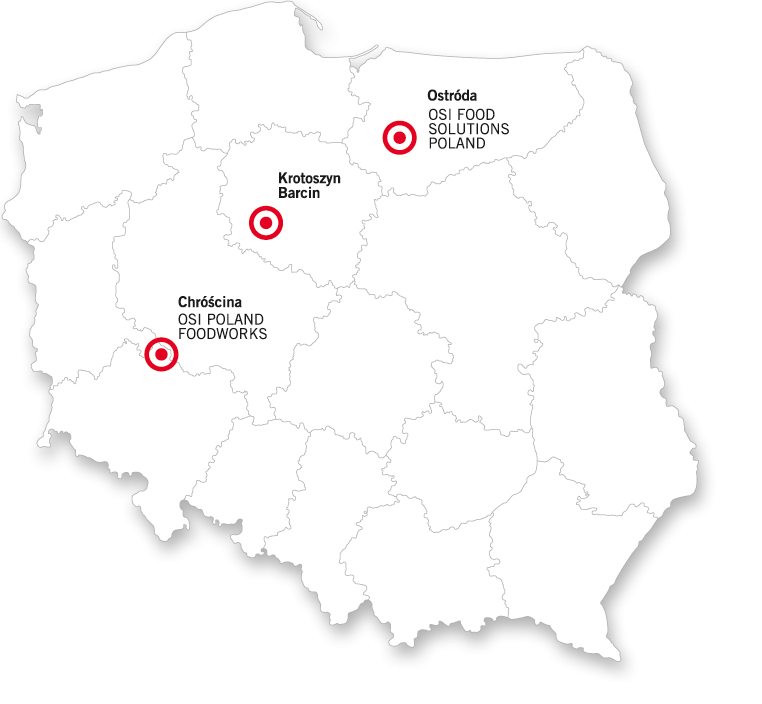 Being a production plant, there are certain policies regarding purchasing of beef and its production, we are obliged to meet. Ours are based upon values and rules of sustainable development. To read more, click here.
Responsible business management in the field of environment, economy and society, is the basic operational foundation of OSI POLAND FOODWORKS. Globally, the priority of OSI GROUP is to promote sustainable development of the food market and balance of the food chain. We hope to achieve our goals through constant implementation of innovative solutions which will then, positively affect the development of businesses and the social impact they generate.
OSI POLAND FOODWORKS slaughtering plant is located on the border of Lower Silesia and Greater Poland voivodeship. It specializes in slaughtering and cutting cattle. The company was set up in 2011 and since then has been developing its production potential, gradually increasing the quantity of beef produced. Currently, the plant is capable of slaughtering 2000 animals and cutting a thousand tons of meet weekly. Our great performance and outstanding results make OSI POLAND FOODWORKS one of the biggest Polish and European slaughtering plants as well as the major beef provider in Europe.
Our purchasing policy is based upon transparent and attractive principles and prices. It clearly determines the rules for purchasing cows, heifers as well as bulls. We operate within the borders of Poland, with four buying stations, based on the border of Greater Poland and Lower Silesia voivodeship, in Kuyavian-Pomeranian voivodship and warmińsko-mazurskie voivodship. See our buying stations, - click here.
OSI POLAND FOODWORKS offers high standards, fair financial settlement, reliable payments and contracting system; all of which promote sustainable development of breeding farms and increase purchase rates.
---
High food safety standards regarding beef production applied within OSI Group (also in the Polish slaughterhouse), are in accordance with both national as well as international, renowned quality certificates, held by the company, such as:
HACCP
IFS FOOD v. 6.1 - International Food Standard
ISO 14001
Proprietary certificates of quality developed by global companies operating on the food processing markets, such as McDonald's Supplier Standard.
The highest quality of beef sold under the name OSI POLAND FOODWORKS is guaranteed by the company's own, strict quality systems enforcing certain breeding, purchasing and production procedures:
An additional confirmation of outstanding quality of beef offered by our company is the fact that three of our products (Rib Eye, Striploin and Fillet) have been awarded with medals during the World Steak Challenge competition for two years is a row.
OSI POLAND FOODWORKS is also one of very few plants in Poland, holding a certificate confirming compliance of production processes with the requirements set by Council Regulation (EC), 834/2007, regarding organic production and labelling organic products. A stable position of OSI POLAND FOODWORKS is demonstrated by its presence in the worldwide OSI FOODWORKS retail networks. Being a part of OSI guarantees financial and organizational stability, which serves a solid foundation for our ambitious development plans. This enables the plant to increase its production ability, leading to acquiring greater shares on both Polish as well as international markets of beef producers.